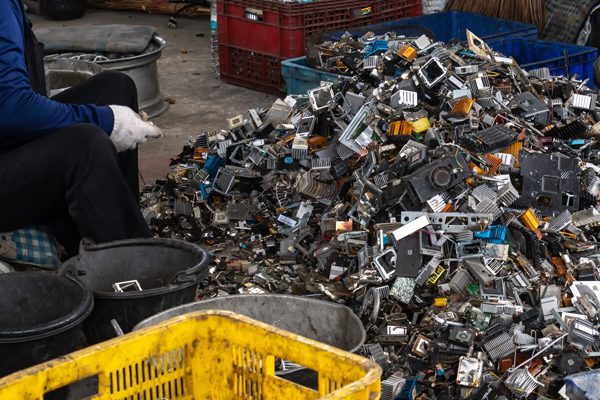 According to the United Nations' Global E-Waste report, in 2019, we globally generated 53.6 metric tonnes (Mt) of e-waste. The UN estimates we will reach 74 Mt by 2030. Annually, tons of e-waste is improperly recycled. Often this e-waste is illegally exported and sent to developing nations. These acts negatively impact countries causing environmental pollution and long-term health issues for residents. Is your e-waste contributing to the problem? Here are three factors to look for to ensure your e-waste is properly recycled.
INEFFICIENT DATA DESTRUCTION
Before recycling or repurposing, computers, phones, and other electronics sensitive data stored on these devices needs to be destroyed. If data destruction is done improperly important data can be exposed to malicious actors. Unfortunately, some organizations still drill a hole through a hard drive. Drilling a hole is not an efficient way to erase data. To fully ensure your data is destroyed, data destruction must meet NIST 800-88 standards.
NO TRANSPARENCY
Partnering with a vendor that provides clear transparency throughout the process is essential. Some companies dump their old IT equipment in landfills. After a time, the toxins from the electronics leak into the ground and pollute the soil. Proper e-waste recycling provides documentation of the entire process. You should receive chain of custody documentation once the project is completed and, in some cases, an auditable data destruction report.
NO CERTIFICATIONS
R2 and eStewards are two organizations that regulate the e-waste recycling industry. These entities have rigorous guidelines to protect e-waste from being illegally exported. Recyclers that are certified must complete annual audits. Each step of the recycling process should be regulated. eStewards certified recyclers only work with eStewards approved down-stream partners.
Is your organization looking to recycle your IT hardware? Our skilled team can help. We provide eStewards and R2 certified e-waste recycling. Email us or call us at 1-800-797-5478 with a list of your IT equipment for a free quote.