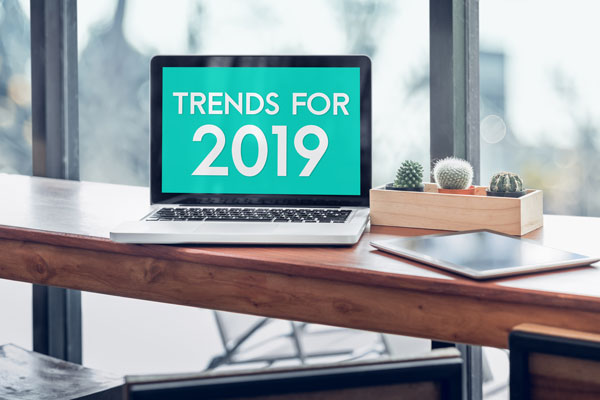 Many of the tech trends from 2018 will continue into 2019. These trends are being used in various markets and industries. Majority of the top trends are making work more efficient for organizations. Here is our list of the top tech trends of 2019:
Artificial Intelligence
From chatbots to voice apps artificial intelligence is being used more than ever and becoming commonplace in everyday life. Innovation in AI technology has made it more accessible than ever. Organizations can now use the tech to easily support their business. This process makes the AI in specific industries an efficient and affordable alternative for labor-intensive work processes.
Blockchain
In 2019, the blockchain plans to grow up. This year, blockchain technology will be leveraged for a wide array of capabilities. Large companies such as Fedex, IBM, Microsoft, Mastercard, and Bank of America are already utilizing blockchain technology.
Augmented and Virtual Reality
AR and VR have long been a consumer-focused technology. Yet now companies seem to be embracing the medium more. "Demonstrating these complex solutions within a "virtual" immersive environment – such as a hospital, laboratory, data center, manufacturing plant, or oil refinery – that is contextually relevant to the user can be a highly effective way to help customers relate to what the product or solution is, how it works and why it will benefit them" says Gavin Finn the CEO of a B2B creative firm, Kaon Interactive .
Security
Technology is innovating at hyper speed leaving organizations susceptible to malicious attacks. Several big companies are now offering bug bounty programs to ensure they have the best and brightest helping them. If an organization is unable to outsource, they are finding AI enabled software to fill in the gaps.
Is your company upgrading or refreshing your technology in the new year? If so, partner with Liquid Technology. We provide e-waste recycling, computer liquidation services, and off and on-site secure data destruction. Learn more about our services here.